Web3 entertainment company Digital Entertainment Asset (DEA) has announced the launch of Lucky Farmer, a new NFT game on the PlayMining gaming platform. Lucky Farmer joins a rapidly growing catalog of PlayMining Play-and-Earn (P&E) games that enable players to earn DEAPcoin ($DEP) tokens, which can be used to purchase NFTs from the PlayMining NFT marketplace or traded on popular crypto exchanges such as OKX, Gate.io, Uniswap, Bitmart and more.
"We are sure that Lucky Farmer will be a hit with players," said DEA co-founder and co-CEO Naohito Yoshida. "Lucky Farmer and in fact all of the games on the PlayMining GameFi platform are easy to play and great for casual players looking to enjoy some quick entertainment during their busy day. The best part is – you get to earn $DEP tokens through play!"
How to Play Lucky Farmer
Lucky Farmer is a farm-themed casual coin pusher game where players attempt to collect large numbers of medals through an in-game slot machine. These medals can then be exchanged for various items or used to advance pets in the game or participate in weekly ranking competitions. Incidentally, these medals can also be traded for DEP tokens.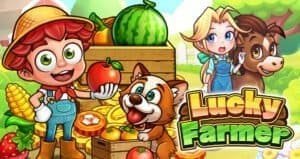 Lucky Farmer is full of incentivized play which makes it both fun and rewarding for players. Players spin a slot machine to score certain combos to generate raining medals, crop growing or egg dropping. 'Fever Time' is triggered when the triple seven jackpot is hit, causing medals to rain down in torrents. Aligning pet patterns in the slot machine activates a pet's skills, which can trigger dropping crops or eggs on the field. In addition, feeding a pet will make it friendly and increase the activation rate of its skills. More eggs gets a player more numbers which are used to play Bingo and 'JACKPOTCHANCE' to win even more medals.
The game uses two kinds of NFTs to enhance gameplay – Farmland and Character NFTs. Farmland NFTs give the players access to special crops, increase the odds of winning slot combos and also give players the chance to win DEP tokens directly during 'Fever Time' and 'JACKPOTCHANCE'. Character NFTs allow the player to customize play experience, such as being able to change their avatar, game background and music. When specific character and farmland NFTs are paired together, it also increases the probability of scoring winning combos.