CycurID Technologies Ltd., ("CycurID" or the "Company"), is pleased to announce the release of the first fully compliant, transaction-monitored and privacy-based, non-custodial cryptocurrency wallet.
The imme™ Wallet has been developed to allow everyday persons to participate in the evolving digital marketplace without the fear of dealing with cryptocurrencies from illicit sources and activities, such as sanctioned wallets and the dark web.
Mehdi Mehrtash, CycurID CTO and Co-founder said, "Some of the biggest hurdles preventing the mass adoption of cryptocurrency are: the lack of understanding arising from the use of technical jargon, and misleading information regarding the true risks involved in dealing with cryptocurrencies. The imme™ app and wallet were developed to provide an easy to use, consumer-focused, and transparent experience that maintains user anonymity while providing feedback on the quality of their transactions."
Similar to how you would open a bank account, users of the imme™ Wallet are authenticated through an automated onboarding process which performs an ID and background verification. Once the onboarding is complete, they are able to set up their wallet. The imme™ Wallet includes other functionalities such as: wallet reputation, transaction scoring, biometric transaction authorization, support for ETH and all ECR20 tokens, cloud-based wallet backup, and the ability to use Web3 domains powered by Unstoppable Domains.
"We're working to bring Web3 to the world, and integrating with CycurID's crypto wallet will help us do that," said Sandy Carter, SVP and Channel Chief at Unstoppable Domains. "In order to become part of Web3, people need to feel secure, which is why we're aligned with CycurID's vision for a safe and compliant Web3 experience."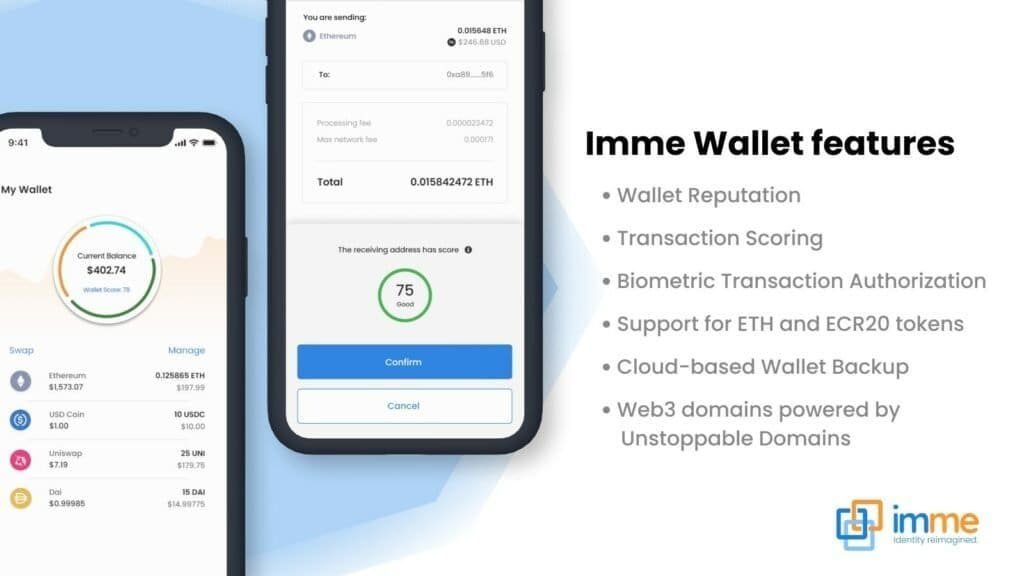 All transactions from the imme™ Wallet are checked to determine if any of their funds have been commingled with funds from illicit activities or sources such as the dark web, sanctioned wallets and/or proceeds of crime. There is a 0.25% fee on every outgoing transaction that covers the continuous monitoring, and sanctioned address screening. This fee is in addition to the normal gas fee.
Mehrtash further added, "Our Company's main goal is to ensure that consumer and business protections are central in all online transactions, while meeting regulatory and reporting requirements."
For more information about CycurID's complete suite of cost-effective identity solutions, visit the corporate website https://cycurid.com or contact CycurID here. Learn more about imme™ at imme.io or contact the imme™ team here.
No Offer or Solicitation.
This press release shall not constitute a solicitation of a proxy, consent, or authorization with respect to any securities or in respect of the proposed business combination. This press release shall also not constitute an offer to sell or the solicitation of an offer to buy any securities, nor shall there be any sale of securities in any provinces, states or jurisdictions in which such offer, solicitation, or sale would be unlawful prior to registration or qualification under the securities laws of any such jurisdiction.
About          
CycurID Technologies Ltd. – CycurID is a privately held personal identity management and security software developer based in Vancouver, British Columbia. CycurID™ has developed proprietary patent pending identity management and privacy software which is available via its consumer app imme™ (I'm me). CycurID is registered with the Better Business Bureau, WorkSafe BC and with FINTRAC as Money Service Business (MSB). CycurID™ and imme™ are Registered Trademarks of CycurID Technologies Ltd. CycurID is also incorporated in the United States as CycurID Technologies USA Ltd.
Unless explicitly stated, the Company does not purport to retain title or interests to any imagery. All imagery has been used under license by the Company which allows the Company to use, reproduce, archive, modify, and display the Work, in all media, for (1) advertising, marketing, promotional and decoration purposes; and (2) personal and non-commercial uses.
Unstoppable Domains – Founded in 2018, Unstoppable Domains is a Web3 domain name provider and digital identity platform. Unstoppable Domains offers Web3 domains minted on the blockchain that give people full ownership and control of their digital identity, with no renewal fees. With Unstoppable Domains, people can replace lengthy alphanumeric crypto wallet addresses with a human-readable name and log into and transact with hundreds of apps, wallets, exchanges and marketplaces. The company was named by Forbes as one of America's Best Startup Employers in 2022.